BMX race bike buyers guide
Find the right BMX race bike for you!
NEED SOME HELP UNDERSTANDING BMX RACE BIKES?
SourceBMX is a 100% Rider-owned and run store - we live and breath BMX! That's why we know that choosing a BMX race bike can be a little daunting, especially if it is your first bike or you are buying for someone else, like your child. This handy guide has been created to give you all the tools you need around sizing and what level of bike you will need to meet your needs.
Remember, we are all riders here and if you need any help at all please don't hesitate to contact us, or chat to us on our live 24/7 chat service.
The first thing you will need to do is make sure you get the correct sized BMX race bike based on your height. BMX race bikes are sized from Mini (The smallest) through to Pro (adult) sizes. These sizes refer to the overall size of the frames and parts but the wheel diameter will remain the same at 20" despite the width of the tyres varying.
Cycle through our handy guide to find out what size bike best suits you.
Note: there is some overlap between sizes as personal preference comes into the equation.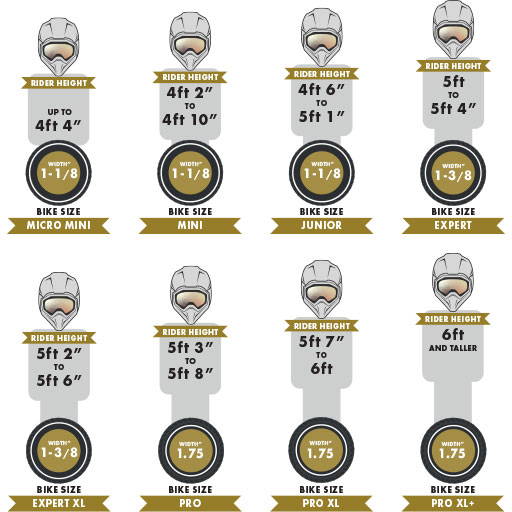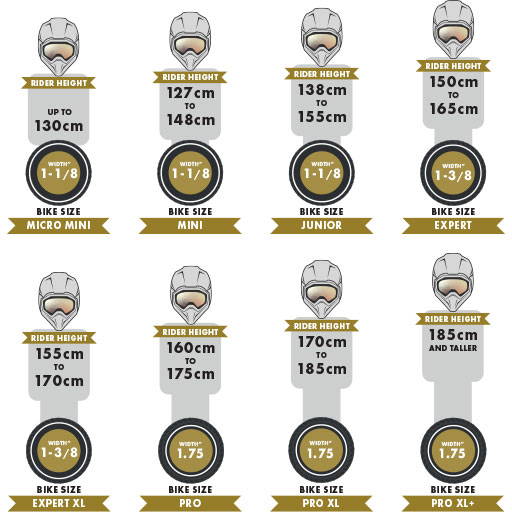 SHOP BMX RACE BIKES BY SIZE
MINI AND SMALLER RACE BIKES

Mini and Micro Mini bikes are super small, lightweight BMX Race bikes for the little guys just starting out.
JUNIOR AND EXPERT RACE BIKES

Bigger than Mini bikes but still lightweight with thinner wheels and tyres than the full size Pro bikes to reduce drag and weight.
PRO AND LARGER RACE BIKES

Full size adult BMX race bikes with full size tyres for added stability and strength. Lightweight and fast by design.
---
WANT TO KNOW MORE ABOUT BMX BIKES?
We've broken down a BMX Race bike below and explained each part in detail so you know what to look out for when buying a BMX Race Bike!
All bikes start with the frame. BMX race frames are typically made from aluminium. Look out for CNC machined details and things like hydro formed tubing on higher end bikes which help keep the weight down while increasing strength. The geometry of a frame also affects how it rides. You can find out more about that in our BMX race frame buyers guide.
Forks on most complete BMX bikes are made from chromoly or hi tensile steel. Higher end models use carbon fiber to save weight. Forks typically use 10mm slots for the front axle however look out for 20mm on some higher spec'd bikes.
Handlebars or just 'bars'. These are made from tough chromoly and are sized to fit the bike they are on. Some smaller bikes like minis and juniors have lighter weight aluminium bars.
There are 2 main types of headsets. A-headsets are the traditional type with external cups (where the bearings sit) whilst integrated headsets have sealed bearings that sit inside the frame itself.
The diameter of this tube is dependent on the size of the bike with most Mini and junior bikes using a 1" diameter and larger bikes using a larger 1-⅛" size. Also look out for "tapered" headset which uses a larger 1.5" size on the bottom for strength - they also look better with the larger looking carbon forks.
BMX race bikes use only a rear brake as standard. The standard brake on a BMX race bike is a v-brake which mounts on top of the frame. Some higher end race bikes now use a disc brake for more powerful braking.
Look for sealed bearings here on higher-end spec bikes; they'll last longer and require less maintenance than the loose ball versions. 10mm is the standard diameter of axles with some higher spec bikes adopting a stiffer 20mm type.
Look for sealed bearings here on higher end spec bikes. There are two main types of rear hub. A freewheel hub where the drive mechanism is inside a replaceable "freewheel", or a lighter and more reliable "cassette hub". The cassette allows for easier changing of gearings. 10mm axles are the standard on the rear with some higher spec models using 15mm or 20mm for stiffness and better power transfer.
Most race bikes utilise a spider and chainring system for the front sprocket which allows for easier and quicker gear changes. Although gearings differ between models the standard cog at the rear is a 16t with the front using a 44t pro size bike. Smaller bikes use a smaller chainring at the front to have a "easier" gearing which is more suited to the rider's power.  
The outside of the wheel. These come in single or double wall versions. Double wall is strongest and is more important on the rear which takes more abuse than the front. Also look out for lighter "Aero" shaped rims on higher spec bikes for better weight to strength ratio.
Branded after-market tyres are best here as they offer better weight savings, superior grip and less rolling resistance.
Standard BMX race bikes use a 20" diameter wheel/tyre. Smaller bikes use much thinner wheels/tyres for much less rolling resistance such as 1-⅛" and 1-⅜" widths found on Mini, Junior and Expert Bikes. However once you get to the Pro size bikes you will find full width BMX wheels which accept any 20" tyre from a 1.5" width through to a 2.3", these allow for much more strength and grip, required by bigger riders. The most common width of tyre on a Pro BMX wheel is 1.75".
Cranks on a Race bike need to be both strong and stiff so that all that power is transferred as efficiently as possible to the back wheel. Smaller bikes typically use aluminium arms with standard square taper BBs which offer great strength to weight ratio and benefit from a standard sizing.
Larger bikes (Pro and larger) typically use stronger splined spindles to accommodate more power and sealed Bearing Euro BB's. Look out for cranks with hollow aluminium arms and outboard Euro BBs to which offer less flex on higher spec bikes.
BMX Race bikes are typically supplied with grippy platform pedals. Larger bikes are typically supplied with more standard equipment which allows for the rider to use their preferred clip-less pedals.
There are many types of seats available on BMX race bikes with lightness being the common goal. Typically you will find one-piece seat post and seat combos for ultimate weight savings. If angle adjustment is a must look out for pivotal seat posts which allow for the angle of the seat to be changed.
The bit that holds your bars to the forks. All stems are comparable in strength but CNC'd versions are lighter and offer a much cleaner look. They either clamp the bars from the top (top loader) or the front (front loader).
---
free gifts
get a free gift with all orders
explore
delivery info
SEE OUR SHIPPING OPTIONS
read now
finance
split your order into three monthly payments
find out more